Customer Reviews
07/04/2020
Adeline K.
Singapore
Awesome shades!
I'm quite skeptical about online reviews for these shades especially how well they fit Asian faces.. I decided to make a purchase only after seeing 2 of my friends get them! And... It's true! It looks really simple but the feeling you get when a nice pair of shades fit snugly on your nose bridge.. Thank you!
06/24/2020
Andreas W.
Singapore
Cool looks and comfy to run
Lately I ran often during lunch time. I wasn't running with Sunglasses until I tried Sunday Shades. The fit was good, light, no bounce and I had various colors to chose from. I really like the blue and matt black. I hope the rainy days are soon over to go out for a run with my shades :)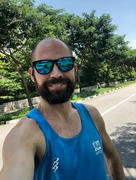 06/24/2020
Yanie O.
Singapore
Perfect!
I love that it does not slip off, comfy to the max and looks super good! The price is a plus point too!
06/24/2020
Shamona S.
Singapore
My Chillin' & Relaxin' shades
Love the colour - versatile and it makes me feel chilled just looking at them. Light weight and a pleasure to wear, as with all Sunday Shades.
06/24/2020
Ryan H.
Singapore
It just will not shake
I just love this shades. No matter how fast I run or jump, even running down stairs it just won't shake or drop. I am very impressed.