Customer Reviews
Beautiful shades
Nice and light and love the colours
11/13/2022
Julie H.

Singapore
A superstar!
I fell in love with the color, it's a head-turning. It's very unique & super sleek. I always use this one everytime I do have a training session in the dragon boat coz it's snug to my face & I know I don't have to worry that It might fall while doing the rigid training. Sunday Shades is the best!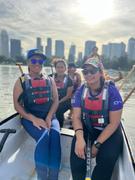 09/13/2022
Henriette H.

Singapore
Awesome Shades!!
I love my shades so much!! I drive grab and these shades have been so helpful when i drive especially when there is hot blinding sunlight in the mornings. Thank you so much for creating such functional eyewear that comes in beautiful&Fun colors!!
08/22/2022
Biona B.

Singapore
Awesome like a flying possum
Had been eyeling this pair of for ages. This is my second pair of Sunday shades and there's nothing to dislike. I need to add that I love their shades so much, I bought 2 pairs this time and have a total of 3 pairs At the moment ❤️
05/14/2022
Rubyana N.

Singapore
Adorable!
Gonna wear my Sunday shades everyday! Perfect fit and it was everything I had hoped for.